The North-South road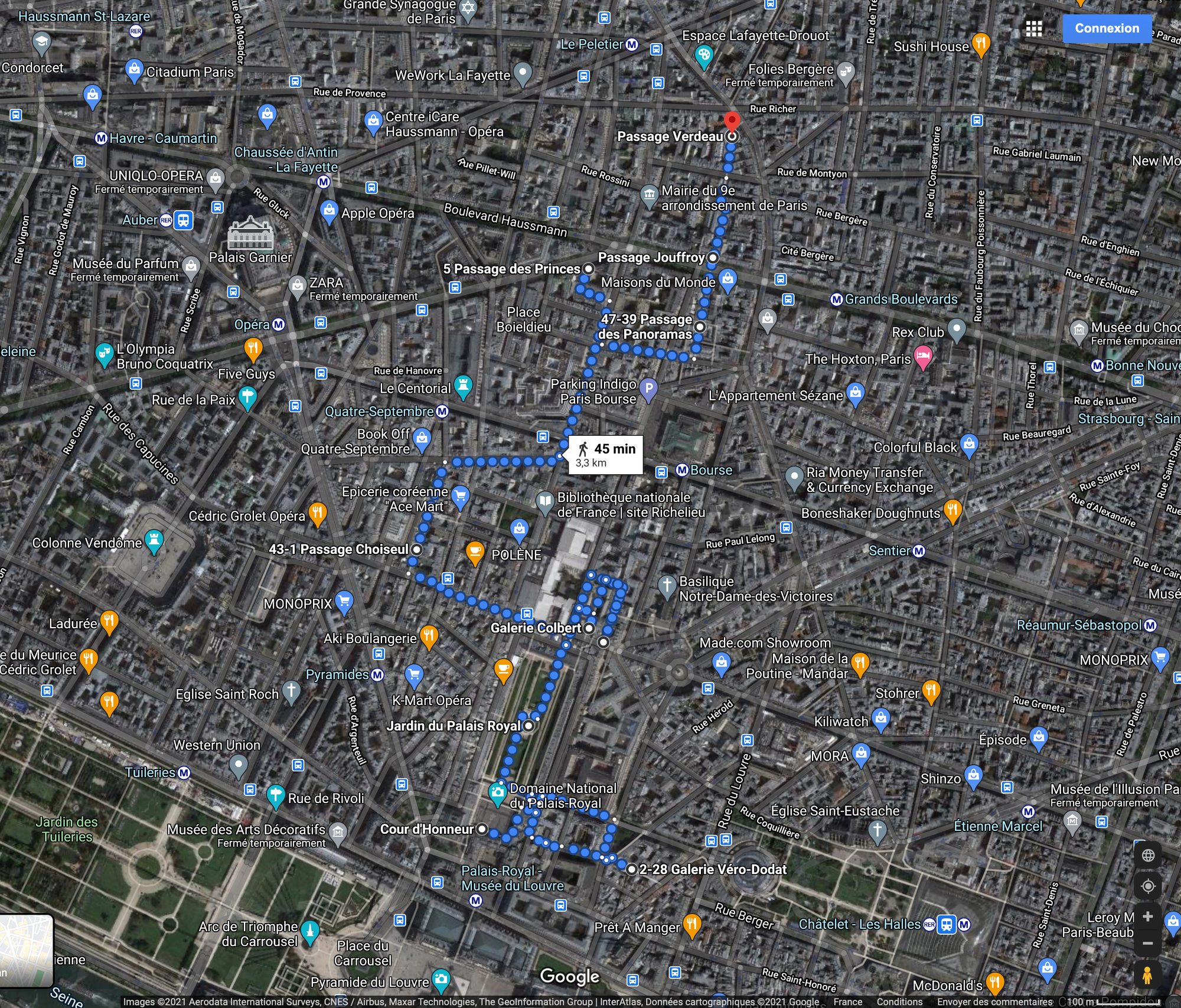 There were many options for tours, for many passages types. At East of Paris are the covered passages the more industrious. I kept some of them for my Visit complement on Youtube (the link is below). There's also a North-South road that is the most mainstream for tour guides. That's the one I decided to choose. It's all about the most luxurious passages.
So we'll start this tour at the Palais-Royal, make a little detour towards la Galerie Véro-Dodat, and then go back to the Galeries Vivienne and Colbert. Then, we'll do again a small detour towards the street of Petits-Champs towards the passage Choiseul, then towards the passage des Princes, often forgotten by tour guides. To finish, we'll do the 3 passages that are in a row: the passages des Panoramas, Jouffroy and Verdeau.
There were so much interesting themes to talk about for covered passages, and to not feel frustrated and to tell you everything, I decided to stick a theme to each passage or gallery that match well… We'll talk about the birth of covered passages. We'll decrypt its architecture so particular that reuse what's already built, that uses richly decorated patterns and that introduce glass roof into the architecture. We will also link them to their speculative history, explain why they were popular, why did they decline, and understand what they could inspire in architecture history.
Well, you see, it's a big program! You'll become a pro!
The Palais-Royal and its two galleries
The first step of our tour is about the Palais-Royal, a place rich in history. But even if great names are stick to this very emblematic building of Paris (Richelieu, Louis XIV, Daniel Buren), it's not the subject, you understood. If this place interests us, it is because it is here that the first covered passage was born: the wooden galleries of the Palais-Royal. An emblematic place for the Parisian 18th century, a place rich in freedoms. But when Louis-Philippe took power, he took the decision to destroy everything to build the most beautiful gallery of all Europe: la Galerie d'Orléans. It will deeply renew the genre and will inspire a lot of European covered passages.
Véro-Dodat Gallery and its speculative history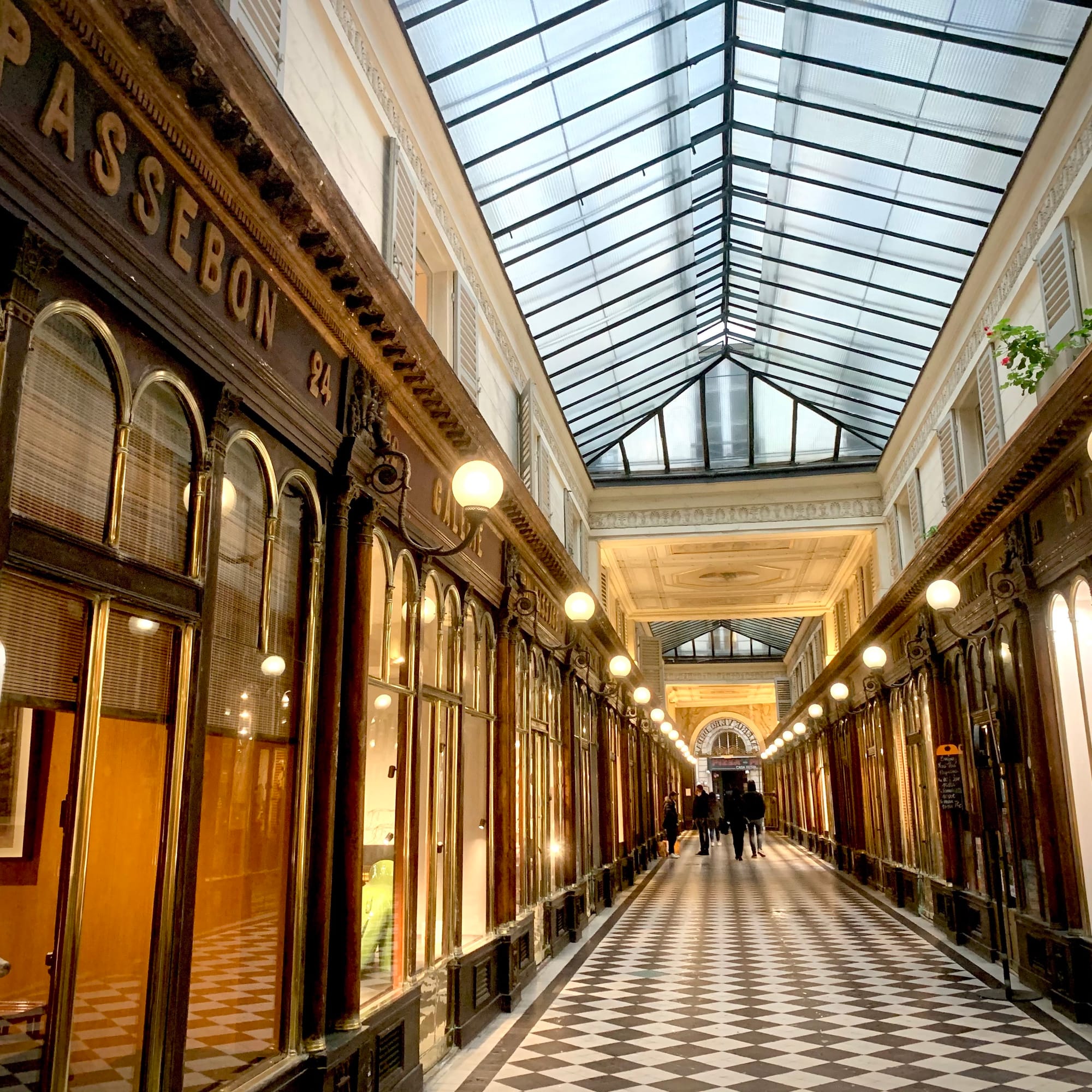 There's no chance to speak about covered passages without telling about their speculative history. We're at a context when during the 18th and 19th centuries, we began to build a lot of housing program to accommodate families and collect rents. Investors are constantly looking for available land to generate this rental income, and quickly, the rents of the shops seem fruitful. The covered passage embodies this idea. It is often banks and private speculative companies that are responsible of that but for the case of Véro-Dodat's gallery, it's a fun story of French success. In fact, Véro is not a banker but a pork butcher. He founded his shop nearby. And from a real estate acquisition to an other, he got wealthy and managed to found this passage with his associate Dodat...
A very particular architecture… The galleries Vivienne, Colbert and the passage des princes
When we talk about covered passages, we need to talk about their singular architecture. First originality : It reuse former buildings. This is something you can easily notice in the galerie Vivienne where no room is identical to the next one… Concerning its intern structure, all is organized around the same pattern that is repeated around a shop cellule, decorated with symbols related to business (the god Mercury, the scale, etc.). We should also mention the glass roof that in iron architecture are really at the beginning of the use of iron!
Covered passages and theaters : the passages are so popular ! The passage Choiseul and the passage des Panoramas
Are covered passages and theatres inseparable? We can really ask ourselves the question when we see the number of theaters next to the covered passages. These last wanted to take advantage of the popularity of theaters, but some of the theaters were built next to the covered passages to take advantage of their popularities. They're like cats and dogs. But it's also a good indicator: during the 19th century, the covered passages were so popular! This is also due to the abundance of entertainment venues (panoramas, coffees, restaurants), but also to the luxurious shops who make their fame...
The obsolescence of covered passages and the model they inspired in architecture history. The passages Jouffroy & Verdeau
Sometimes it's hard to imagine that in the middle of the 19th century, the passages are quickly forgotten and became truly deserted. No one want to gets through, except maybe to save time on their journey. They are austere, cold, they smell bad. How to explain such a reversal of situation? In the 70's, things change and the covered passages were popular again. They remind us of the old Paris, make us travel in an other century. They are upgraded by the State and private actors for our greatest pleasure. And if I told you that the covered passages had a huge impact in architecture history? Let's discover it together!
A little extra, if you want to discover my visits. These videos are :
The trailer of the tour ;
An added-value to the tour, if you want to go further or if you want to discover those subjects. My advice is to activate subtitles to understand what I can say in French.
---
Informations pratiques
Duration: 2h
Meeting point: Metro line 1 or 7 "Palais-Royal Musée du Louvre", exit 5 "Place Colette" — Then look for my flag!
Price: 180€ — 20% discount for school group (150€) — The price takes into account the translation effort
Language: In English.
Not accessible for the people with reduced mobility.